Getting You Tech-Ready for Your Course
It is the learner's responsibility to meet the tech requirements for our digital (on-demand, e-learning) courses
TalkTools is not responsible if the learner did not meet our tech requirements and has issues accessing their courses
TalkTools DOES NOT recommend using company-issued computers for your digital learning, as settings on these devices can be configured to block access to our Training Site 
If learners decide to proceed with using a work-issued computer, they may need to contact their organization's IT department to request reconfiguration
Supported Browsers – the latest version of
Use this site to check your browser: https://www.whatismybrowser.com/
Check your web browser SETTINGS: JavaScript, cookies and third-party cookies need to be enabled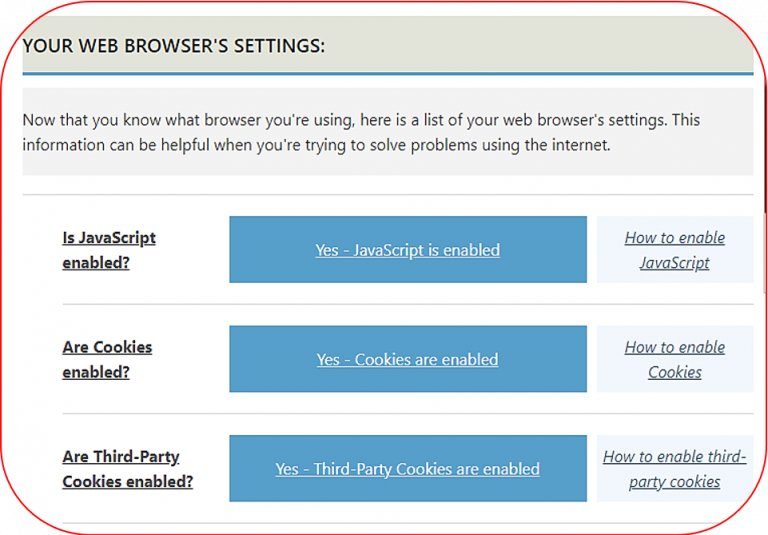 ERROR MESSAGE WHEN ACCESSING SITE
"ERR_CONNECTION_RESET" — The "ERR_CONNECTION_RESET" error code appears when the browser fails to establish a connection with a website. This means the server cannot transmit data to your browser. The error points towards a problem with your internet connection. Troubleshooting and Fixes
"This Site Can't Be Reached" By and large, the most common causes are: Domain Name System (DNS) resolution errors;  Connections that time out; An overall failure of your internet connection; Misconfigured internet, network, or firewall settings. Although Chrome does suggest a few fixes within each error screen, there are a lot more ways that you can troubleshoot this issue. Troubleshooting and Fixes
Supported operating systems
iOS 8.0 or later
Windows 10 or later
iPadOS 13 or later
iPhone 4 or later, iPad Pro, iPad Mini, iPad 2 or later, iPod touch 4th Generation, iPhone 3GS (no front facing camera)
Android 5.0x or later
on-demand, e-learning courses require a lot of bandwidth!!
check your connection at: https://www.speedtest.net/
minimum speeds:

minimum upload speed: 8 Mbps/1MB
Ping: 50 ms or lower
NOTE: Optimum internet provided is NOT supported
Clear Your Cache (Browsing History)
It is best practice to regularly clear your cache
On your computer, open Chrome.
At the top right, click More .
Click More tools. Clear browsing data.
At the top, choose a time range. To delete everything, select All time.
Next to "Cookies and other site data" and "Cached images and files," check the boxes.
Click Clear data.